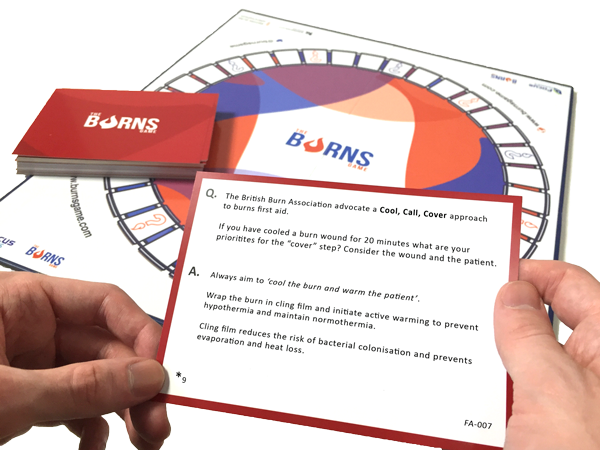 Peter Drew, Chairman of British Burn Association.
---
'The Burns Game is an exciting and innovative way of broadening the knowledge base of anyone working with burn-injured patients. Everyone, from fire service personnel and first-aiders through to specialist hospital staff will find it challenging. The BBA is proud to have helped develop the game and hope players everywhere find it both educational and entertaining.'
The Burns Game
An enjoyable educational board game designed to improve group training in emergency burn care for frontline healthcare professionals. The game helps staff develop their understanding of burn injury first aid, assessment and treatment. The game was developed by Focus Games Ltd in partnership with the British Burn Association and Birmingham City University.

Following a burn injury, patients receive immediate care from various emergency professionals including Fire & Rescue Service, HEMS, Paramedics, Emergency Department clinicians and First-Aiders.

Many of these professionals do not specialise in burn care, making accurate assessment and immediate management difficult. The National Burn Care Review (2001) highlighted the need for formal education and training in burn injury first aid, assessment and treatment.

"major lack of burns teaching in the UK…emergency departments and ambulance stations lack knowledge regarding the emergency management of burn victims."
The Burns Game delivers this knowledge and helps staff understand how to initially manage burns and improve outcomes for patients.
Developed by: